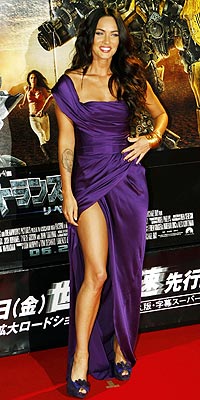 Megan Fox Style-Summer 2009
Megan Fox is undoubtedly one of the fastest rising stars today. The gorgeous actress and star of the movie "Transformers 2 – Rise Of The Fallen" is the object of desire of men while women all the world try to be like her. This includes trying to emulate her style from head to toe and it comes as no surprise. Ever wondered what Megan Fox's favorite fashion brands or labels are? Let's take a look using a single event.
Megan Fox arrived at the ELLE annual "Body Issue" in a casual setting. She came casually dressed in a white t-shirt and sweatpants, New Balance sneakers and aviators. Now, Megan Fox is totally blessed with both the body and looks and will look good on almost anything. The above is an understatement and she was charming in casual wear as seen in the arrival.
When the sun set, the event was moved to Malibu and held in a private villa. There, Megan Fox was seen strutting the dance floor and charming the crowd in a Alexander Wang's black mesh minidress. This showed off even more of her gorgeous figure and long legs.
Megan Fox long straight hairstyle
After the event, she Megan Fox hit the beach before changing into a swimsuit by Michael Kors and later on, an Alexandra Cassaniti scuba bottom. Needless to say, she was a head-turner wherever she went regardless of the time and event.